How the ACA and Veteran's Choice Programs Impact Your Billing
The Affordable Care Act (ACA) and Veteran's Choice programs have significantly impacted the way healthcare is accessed and paid for in America. This article will discuss what these programs cover, how they affect veterans' health care, and where you can find more information.
What Is the Affordable Care Act?
The ACA is a law passed by Congress in 2010 and signed into action on March 23rd. The legislation was designed to ensure quality healthcare for all Americans and to provide more affordable insurance options to those who cannot afford it or have pre-existing conditions. It has also led to an increase in long-term care, mental health coverage, and preventive care. 1
What Is the Veterans Choice Program?
The Veteran's Choice Program was passed by Congress in 2014 and signed into action on November 11th of that year. The legislation was designed to ensure quality healthcare for veterans who are unable to get care through the VA (i.e., those living too far away from any VA medical center) or who have been waiting more than 30 days for an appointment.  
What You Should Know About the Original VCP
VA no longer offers community care to veterans under the Veteran's Choice Program (VCP). The VCP was officially replaced by a program called Veterans Community Care (VCC). 
Veteran patients can still use their original care provider they selected under the prior VCP. However, this factor may depend on having an existing VCP Provider Agreement. If you have questions about your current provider, get in touch with your nearest VA facility.  
What is the MISSION Act & Community Care Program?
The MISSION Act and the Community Care Program are measures that aim to expand access and improve the quality of care for veterans. These programs replace the Veterans Choice Program (VCP) that was discontinued in June 2019.  
The MISSION Act is an improved version of the VCP that aims to offer more benefits to veterans, such as decreasing the wait time to get access to proper care and recalculating the distance based on driving time. Veterans can use community health services even if they lack private insurance coverage.  
Why Veterans May Struggle with Addiction and Mental Health Issues
One large study of 60,000 veterans who fought in Iraq and Afghanistan found that 13.5% of deployed and non-deployed veterans had post-traumatic stress disorder (PTSD). Additional studies show the rate to be much higher (20% to 30%). More than half a million US troops who served in the Middle East wars over the past 13 years have been diagnosed with PTSD.2
Research shows that around 50% of the veterans who have PTSD also have depression. The two conditions often go hand in hand and produce similar symptoms.3
Furthermore, studies have found that veterans who were exposed to combat were more likely to show signs of depression and anxiety later in life than veterans who had not seen combat.4
Anxiety After Military Service
Some studies that examined generalized anxiety disorder (GAD) in veterans found elevated rates of the condition in 9.7% of Vietnam veterans and 15% of Iraq and Afghanistan veterans. Additionally, a cross-sectional investigation in primary care clinics discovered that 12% of the veteran participants met diagnostic criteria for GAD, reporting worse emotional health, pain, and general health.
5
Iraq and Afghanistan veterans
Statistics on Co-Occurring Disorders in Veterans
PTSD and substance use disorder (SUD) often co-occur in veterans. Around 2 in 10 veterans with PTSD also have substance use disorder (SUD). Moreover, 1 out of every 3 veterans who seek treatment for SUD also has PTSD.
6
One study of recent veterans found that 63% of participants who met the diagnostic criteria for alcohol use disorders (AUD) or drug use disorders had co-occurring PTSD. Similarly, 76% of veterans who met the criteria for both AUD and drug use disorder also suffered from PTSD.
Addiction Treatment and Rehab for Veterans
Treatment Methods for Veterans
Veterans who need addiction treatment can choose between private and military-sponsored programs.
The Department of Veteran's Affairs (VA) Alcohol and Drug Dependence Rehabilitation Program offers many options for veterans seeking treatment for substance use problems. The program offers different forms of treatment, including:
Medically managed detoxification
Drug substitution therapies
Short-term outpatient counseling
Intensive outpatient treatment
Marriage and family counseling
Self-help groups
Residential (live-in) care
Continuing care and relapse prevention
The treatment programs are located in the VA medical centers and clinics.
How Much Will Treatment Cost?
The MISSION Act can cover different types of addiction treatment for veterans, including:
Initial screening
Detoxification services
Drug therapy
One-on-one and group therapy
family/couples counseling
Relapse prevention
Once the patient receives VA approval, the MISSION Act will pay the costs for addiction treatment. The patient may be responsible for copayments that are billed through the VA.
Asking for Help with Payment Options
If you want to learn more about using the MISSION Act for addiction treatment, get in touch with the VA to get detailed information about your options. Before you can seek treatment, community care must be approved by the VA and you must meet certain criteria. Once the VA approves your application, you can locate an approved community provider or get in touch with a VA staff member for help.
Frequently Asked Questions About the Affordable Care for Veteran Addiction Treatment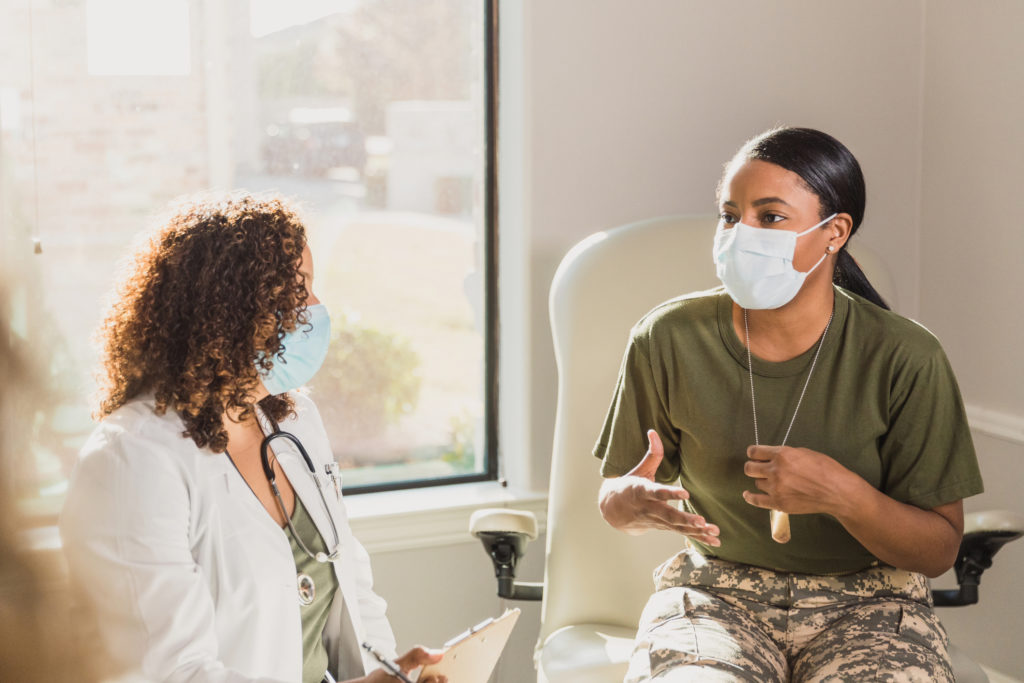 Costs and Copays
The Affordable Care Act (ACA) covers addiction treatments but as part of a cost-sharing plan. The patient needs to cover some of the costs associated with treatment, whether that is inpatient or outpatient addiction treatment. Some veterans do not have to pay copays due to their disability rating, income level, or special eligibility factors.
Private Insurance
If you have private healthcare insurance you can continue to use your VA health benefits along with the private insurance plans.
Medicare
Anyone over 65 years old and with a disability is eligible for Medicare. This insurance program can cover the costs of inpatient and outpatient drug rehabilitation. Although Medicare covers addiction treatment, not all rehab facilities accept Medicare as a form of payment.
Medicaid
Medicaid is an insurance program for low-income patients. Under the ACA, Medicaid must cover all basic costs of drug and alcohol addiction treatment. However, although Medicaid covers addiction treatment, not all rehab facilities accept Medicaid as a form of payment.
Veterans can learn about the Affordable Care Act and find out how to apply at HealthCare.gov.
https://www.va.gov/health/aca/FAQ.asp
https://www.ncbi.nlm.nih.gov/pmc/articles/ PMC5047000/
https://consumer.healthday.com/ encyclopedia/depression-12/depression-news-176/depression-and-ptsd-in-veterans-645003.html
https://www.sciencedaily.com/releases/2019 /07/190702160110.htm
https://www.ncbi.nlm.nih.gov/pmc/articles /PMC4026032/
https://www.ptsd.va.gov/understand/related /substance_abuse_vet.asp#:~:text =More%20than%202%20of%2010, for%20SUD%20also%20has% 20PTSD