What is Positive Psychology and How Can it Help Your Patients?
Telehealth services, particularly video conferencing with therapists and doctors, may be the next big thing in addiction treatment.
What is Positive Psychology?
Positive Psychology's History
Positive psychology is the scientific study of the strengths that enable individuals and communities to thrive.1 It is based on the idea that psychological research can clarify the characteristics and qualities that allow people to lead more meaningful and fulfilling lives and inform design techniques to accomplish that lifestyle.2
Dr. Martin Seligman, the founder of positive psychology and director of the Positive Psychology Center at the University of Pennsylvania, launched the field in 1998 after he assumed the role of president of the American Psychological Association. He believed that it was worthwhile to study positive functioning, wellbeing, and health – that, after all, there is more to mental health than merely the absence of mental illness.3
How Substance Abuse Negatively Impacts Life
Substance abuse directly and indirectly negatively impacts all areas of life. Substance abuse can negatively affect someone's health by changing their dietary and sleep habits, decision-making and impulsivity, and risk for trauma, violence, injury, and communicable diseases.4 Physical and mental health are both at risk. Substance abuse can also negatively impact society via drug-related crime, interpersonal violence, unintended pregnancies, and reduced productivity.5
The Three Domains of Positive Psychology
As has been briefly stated, the field of positive psychology pursues the science of positive emotion, character strengths, and positive institutions. These subjects are associated with three domains: the pleasant life, the engaged life, and the meaningful life.6 The pleasant life involves good feelings (positive affect) about the past, present, and future. The engaged life involves positive traits (strengths of character). In Character Strengths and Virtues, Seligman describes six virtues, each comprised of specific character strengths:
Wisdom: Encompasses open-mindedness, perspective, love of learning, creativity, and curiosity
Courage: Encompasses bravery, persistence, integrity, and vitality
Humanity: Encompasses love, social intelligence, and kindness
Justice: Encompasses fairness, citizenship, and leadership
Temperance: Encompasses forgiveness, humility, prudence, and self-regulation
Transcendence: Encompasses an appreciation of beauty and excellence, gratitude, hope, humor, and spirituality
A meaningful life involves service and beneficial organizations like family, workplace, social groups, and society. Positive organizations are where character strengths and positive emotions flourish.
Positive Emotions That Support Recovery
Emotional regulation is a key mechanism in maintaining and supporting addiction recovery. Emotional health entails more than simply being happy – it also involves paying attention to positive and negative thoughts, feelings, moods, and behaviors. The following are just a few examples of positive emotions that support recovery.
Optimism
Optimism is hopefulness and confidence about the future or the successful outcome of something. Optimism is associated with resilience, particularly in the face of stress like that which will undoubtedly be experienced throughout recovery.7
Gratitude
Gratitude is the quality of being thankful and having a readiness to show appreciation for and to return kindness. In addiction recovery, incorporating gratitude into one's thinking patterns helps that person remember what is good about one's life and how poor the alternatives may be – in short, gratitude is a way of thinking positively.8
Happiness
Happiness encompasses a wide range of emotional states, from contentment to intense joy. Those who are just setting out on their recovery journey may find happiness hard to find (and for good reason – substance abuse changes the pleasure/reward chemistry of the brain). However, happiness can be found in everyday activities, and with time and practice, the brain will readjust to normal levels.9
Empathy
Empathy is the ability to understand and share the feelings of another person. Developing empathy supports recovery by allowing the recovering individual to repair damaged relationships, increase communication levels, and reduce apathy towards others.10
Positive Psychology in Addiction Treatment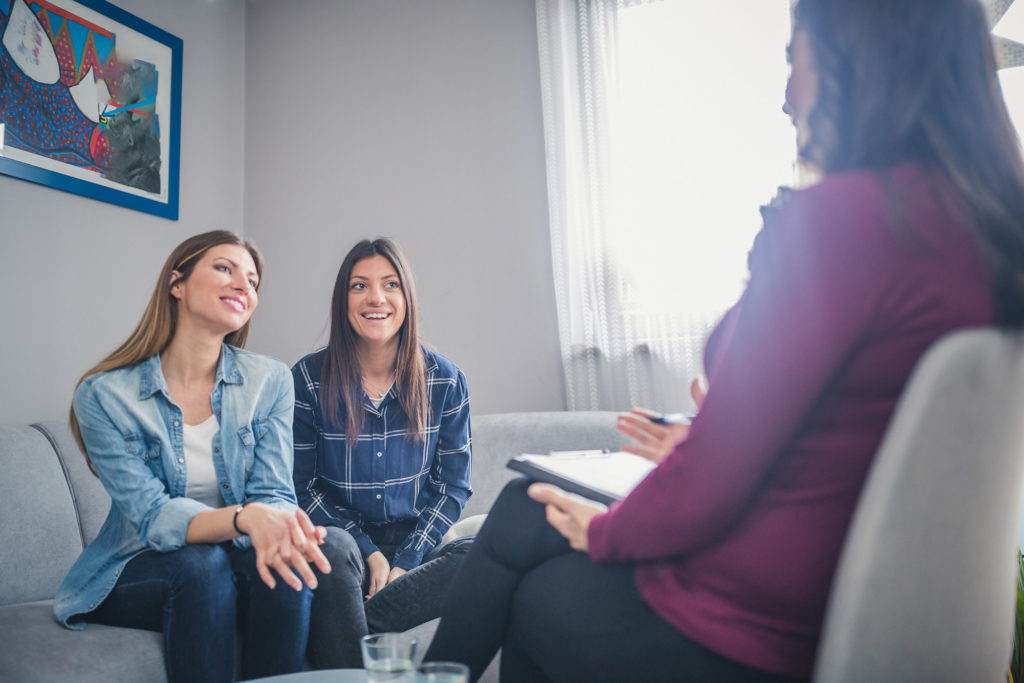 Positive psychology uses positive interventions to build pleasure, engagement, and meaning.11 To an extent, interventions currently used in addiction treatment already have a positive psychology component.
Meditation
Practicing mindfulness through meditation can reaffirm one's purpose for addiction recovery. Meditation enhances the senses of self and empathy, lowers stress levels, and improves overall emotional wellness. Individuals can learn to counter judgmental or self-critical thoughts, become attuned to their environment and responses to it, and better anticipate and modify reactions to triggers.
Some people are skeptical towards telehealth because there is no in-person exam involved. Despite doctors being able to diagnose certain ailments just from an explanation of symptoms, some may not feel comfortable being treated virtually.12
Building Connections
Building connections is a major part of addiction treatment. From group therapy to community programs, building connections to other people in recovery can reinforce one's choice to live soberly.13 Other recovering individuals have common experiences and can serve as sources of empathy.
Gratitude Exercises
Research suggests that people at a slight or great disadvantage (because of physical illness, negative feelings, or high self-criticism) seem to benefit from a gratitude intervention. The most popular positive activity intervention for gratitude is known as "Three Good Things." The "Three Good Things" exercise instructs participants to write down three things that went well each day and their causes every night for a week.
Engaging Activities
In residential programs and therapeutic communities, the meaningful life manifests as service to peers through vocational or educational activities. For instance, in the positive organization Alcoholics Anonymous, service, as in carrying the message, is the twelfth step of the program. Involvement and absorption in work, intimate relations, and leisure activities also create engagement in life.
Research and Statistics on Positive Psychology in Addiction
Positive psychology has faced criticism for taking an overly simplistic approach to the complexities of human emotion and the harsh realities of human life. While the field of positive psychology has grown exponentially over the past twenty years, there is still relatively little "cross-pollination" with the addictions field.14 Little empirical research exists on the role of positive emotions and of strengths in addiction treatment, and what does exist is often weak evidence based on small sample groups and short study durations.
Positive Psychology's Three Domains in Recovery
Substance Use and Shortcuts to Somatic and Complex Pleasures
In positive psychology, positive emotion about the present is divided into somatic and complex pleasures. Somatic pleasures are "immediate but momentary sensory delights," such as shopping, chocolate, and drugs. However, pleasure alone doesn't constitute a life well-lived. In substance use disorders, substances are used as shortcuts to happiness. In recovery, individuals must learn that substances cannot be one's principal road to happiness.15
Reacquisition of Character Strengths in Recovery
In the view of positive psychology, addiction and subsequent recovery may be described in terms of the erosion and reacquisition of character strengths. As an individual descends into addiction, he or she progressively deviates from the hallmarks of good character. As the individual recovers from addiction, they gradually restore the good character that was lost. The Jellinek Curve describes this pattern and is a useful resource for further understanding on this topic. However, this pattern is most clear when considering the character strength of temperance (specifically, self-regulation) since voluntary control over substance use is a hallmark of addiction.15
Positive Organizations Help Build a Meaningful Life
Participation in positive organizations like AA aids addiction recovery by providing supportive social networks, group ties, and a new understanding of or perspective on life. These, in turn, may positively impact the well-being, subjective happiness, life satisfaction, purpose in life, spirituality, and character strengths.15
The Addiction Recovery Movement
Fighting Stigma
The New Recovery Advocacy Movement (NRAM) fights the stigma of addiction by working to end discrimination against people in recovery by raising awareness and bringing addiction recovery into the public consciousness. Initiatives like Recovery Day, Rally for Recovery, and Recovery Month help to facilitate a national conversation for Americans in recovery (as well as their friends, families, and allies). Professional influence has also contributed to purging stigmatizing language (e.g. abuse, clean/dirty, alcoholic/addict) from the addiction field's language of professional discourse.16
Promoting Treatment-Friendly Legislation
Policy advocacy efforts by the NRAM contributed to several legislative victories:
Passage of Mental Health Parity and Addiction Equity Act and the Affordable Care Act
Mobilization of support for the Comprehensive Addiction and Recovery Act of 2015
Removal of discriminatory laws and regulations affecting those in addiction recovery
Changing Public Opinion
Changing public opinion is key to garnering support and funding for addiction recovery services on a local and national level. Conducting scientific surveys on public attitudes toward addiction is illustrative of the effect of NRAM. Meaningful representation of recovering individuals in social media outlets, particularly by women, people of color, and members of the LGBTQ community, has been influential in assuring the cultural inclusiveness of NRAM.
https://ppc.sas.upenn.edu/
https://www.youtube.com/watch?v=L1hauE_OKP8
https://www.ncbi.nlm.nih.gov/pmc/articles/PMC3531570/
https://www.drugabuse.gov/drug-topics/health-consequences-drug-misuse/introduction
https://addiction.surgeongeneral.gov/sidebar-many-consequences-alcohol-and-drug-misuse
https://castlecraig.co.uk/blog/2018/05/22/optimism-important-in-recovery
https://www.hazeldenbettyford.org/articles/sober-dad/gratitude-early-recovery
https://www.smartrecovery.org/i-quit-using-so-why-dont-i-feel-happy/
https://www.cumberlandheights.org/blogs/empathy-addiction-treatment/
https://www.hazeldenbettyford.org/education/bcr/addiction-research/positive-psychology-ru-517
https://americanaddictioncenters.org/rehab-guide/emotional-wellness
https://www.ashleytreatment.org/how-to-find-more-fulfillment-and-joy-in-recovery/
https://facesandvoicesofrecovery.org/about/what-we-do/public-policy/recovery-advocacy-movement/
https://www.ncbi.nlm.nih.gov/pmc/articles/PMC3531570/
https://www.ncbi.nlm.nih.gov/pmc/articles/PMC3531570/
https://facesandvoicesofrecovery.org/about/what-we-do/public-policy/recovery-advocacy-movement/