Marriage Counseling for Patients in Addiction Treatment
What is Marriage Counseling?
Marriage counseling involves when partners meet with a therapist to discuss issues and resolve conflicts. Here's an idea of how a relationship counseling session may play out.
What Does a Marriage Counseling Session Look Like?
No two marriage counseling sessions are exactly alike, but most will start with the counselor talking to the couple to identify their problems and come up with the best ways to deal with them. Once the therapist determines effective treatment options,1 he or she will use therapeutic methods to improve communication and suggest exercises the spouses can do outside of counseling to better the relationship.
The counselor may explore unconscious roots of problems, analyze the ways the couple communicates, and suggest ways to enhance intimacy. They may also recommend individual counseling for the partners.
Couples counseling can take various forms. Pre-marriage counseling can be used if problems arise before the couple is married. Online marriage counseling works as a convenient way for couples to meet with counselors without having to commute. Family counseling will include the couple as well as other family members like children and in-laws.
What Types of Couples Attend Marriage Counseling?
Any type of couple may attend relationship counseling if they are looking to overcome marriage problems or improve their relationship. These include people of any faith, culture, race, or income level. Marriage counseling can also occur at any stage of marriage, whether early on or after a couple has been together for years.
How Does Substance Abuse Affect a Relationship?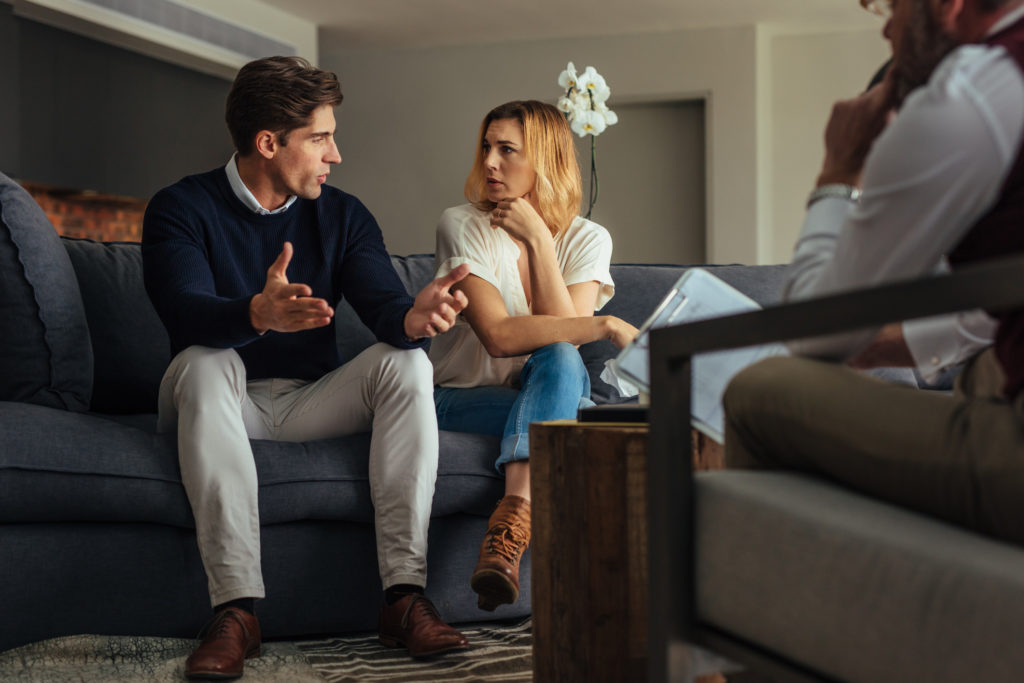 Substance abuse is never great for a relationship and can cause a variety of issues in a relationship.
Strains the Relationship:Strains in the relationship can arise due to a lack of communication, lack of intimacy, legal issues and more.
Strains the Sex Life:Addiction often makes a partner less interested in sex. The lack of intimacy can lead to hurt feelings and an emotional disconnection.
Financial Difficulties: When a person is addicted, they are likely to spend their money on the substance. This spending can lead to financial difficulties within the family when it comes to paying rent, putting food on the table, and spending money on recreational activities.
Legal Conflicts: Addiction may cause someone to commit crimes, drink and drive, and exhibit behavior that makes them dangerous to themselves and others. If a spouse finds themselves in legal trouble, it can increase marriage problems.
Verbal, Physical, or Sexual Abuse: Drugs often cause mood swings that can make a man or woman lash out at their spouse and behave in a way that could be considered abusive.
When a spouse is struggling with addiction, it is common for their partner to want to be supportive. However, there is a fine line between being a supportive partner and an enabling partner.
Enabling Addiction vs. Supporting in a Relationship
It's very easy to enable someone struggling with addiction, and many people enable without even realizing it. Here are some examples:


Giving the individual substances to keep them from getting sick.
Giving the individual money that they may spend on substances.
Giving the individual a place to live if they cannot afford rent due to substance use.
Constantly giving in to someone and helping them may only worsen an addiction problem. Some experts believe that the only way to support an addict is to cut them off completely and let them hit rock bottom. The hope is that, with nowhere else to turn, they will be forced to get help from professionals.
What to Do if Your Partner Has an Addiction
If your partner has an addiction, it can be difficult to know exactly what to do. Here are some tips that may be helpful.
Signs and Symptoms of Addiction
It's important to be aware of the signs and symptoms of addiction.2 That way you can determine if your partner has a problem. Some signs to look out for include:
Red eyes
Dilated pupils
Financial problems
Changes in behavior
Excessive sweating
Weight loss
Changes in hygiene
Sniffing and runny nose
Itching
Diversion tactics in conversation
Poor sleep habits
How to Aid Your Partner in Recovery
To aid in recovery, you may want to start by cutting your partner off completely. Once they admit they need help, it's important to support them in their sobriety in the following ways:
3


Don't blame or judge them
Help them create a recovery plan
Be aware of their triggers
Suggest sober activities you can do together or alone
Try couples therapy
Don't get insulted if your partner becomes agitated or frustrated
Stay sober and maintain a sober living space
Take care of yourself so you can stay strong
Recognize their achievements
Be patient
The Benefits of Marriage Counseling
Couples therapy has many benefits including the following:
Helps Resolve Issues Between Couples: Couples therapy will help you get to the root of your problems so you can determine what's causing them and use techniques to resolve them.
Helps Avoid Future Problems: Once couples therapy gives you the tools you need to cope, you will know what it takes to maintain a healthy marriage.
Allows a Safe Place to Vent: When addiction comes into play, tempers can get out of hand. Couples therapy gives you a chance to express your feelings in a safe atmosphere.
Other Treatment Options for Substance Abuse
Besides couples counseling, there are several other substance abuse treatment options to explore. including the following:
CBT
Cognitive-behavioral therapy (CBT) focuses on changing negative behaviors and thought processes by developing coping strategies. It can be used in couples counseling or individual therapy.4
DBT
Dialectical behavioral therapy (DBT) is a form of CBT used to promote acceptance and change. It can treat personality disorders that can be the underlying cause of addiction, but this therapy has shown to be effective for other disorders as well.5
Motivational Interviewing
Motivational interviewing focuses on communication. It is designed to empower people to find capacity to change.6
Inpatient or Outpatient Care
Many addiction experts recommend that patients check into a rehab center to treat addiction. Once admitted, they will detox and go through a variety of therapies while being monitored. After completing inpatient treatment, they will receive outpatient care to help them adjust to sober living.
Peer Support Groups
Peer support groups can also help treat addiction. Some common support groups include:
AA Meetings: AA or Alcoholics Anonymous is a support group where members mutually aid one another in staying sober.
NA Meetings: NA or Narcotics Anonymous is like AA but it focuses on drug use rather than alcoholism.
SMART Recovery: SMART recovery uses CBT and nonconfrontational motivational methods to encourage sobriety, and it does not have a religious aspect like AA.
It can be difficult for partners to stay together if a spouse is dealing with addiction. Headlands ATS can help.
 
Headlands is an inpatient rehab center that provides comprehensive services including detox, addiction, medicine, various therapies, and outpatient follow-up. Headlands will customize a plan suited to your needs. We provide a full spectrum of addiction services and can recommend relationship counseling for you and your spouse.
Don't let addiction ruin your marriage. Headlands will give you the care you need to overcome your dependency issues and improve your relationships. Call us to take the first step to sober living.
https://guidedoc.com/best-couples- counseling-techniques
https://www.marrinc.org/ signs-and-symptoms/
https://www.gratitudelodge.com/ support-sober-partner-in-recovery/
https://www.apa.org/ptsd-guideline/ patients-and-families/cognitive-behavioral
https://www.verywellmind.com/ dialectical-behavior-therapy-1067402
https://motivationalinterviewing.org/ understanding-motivational-interviewing